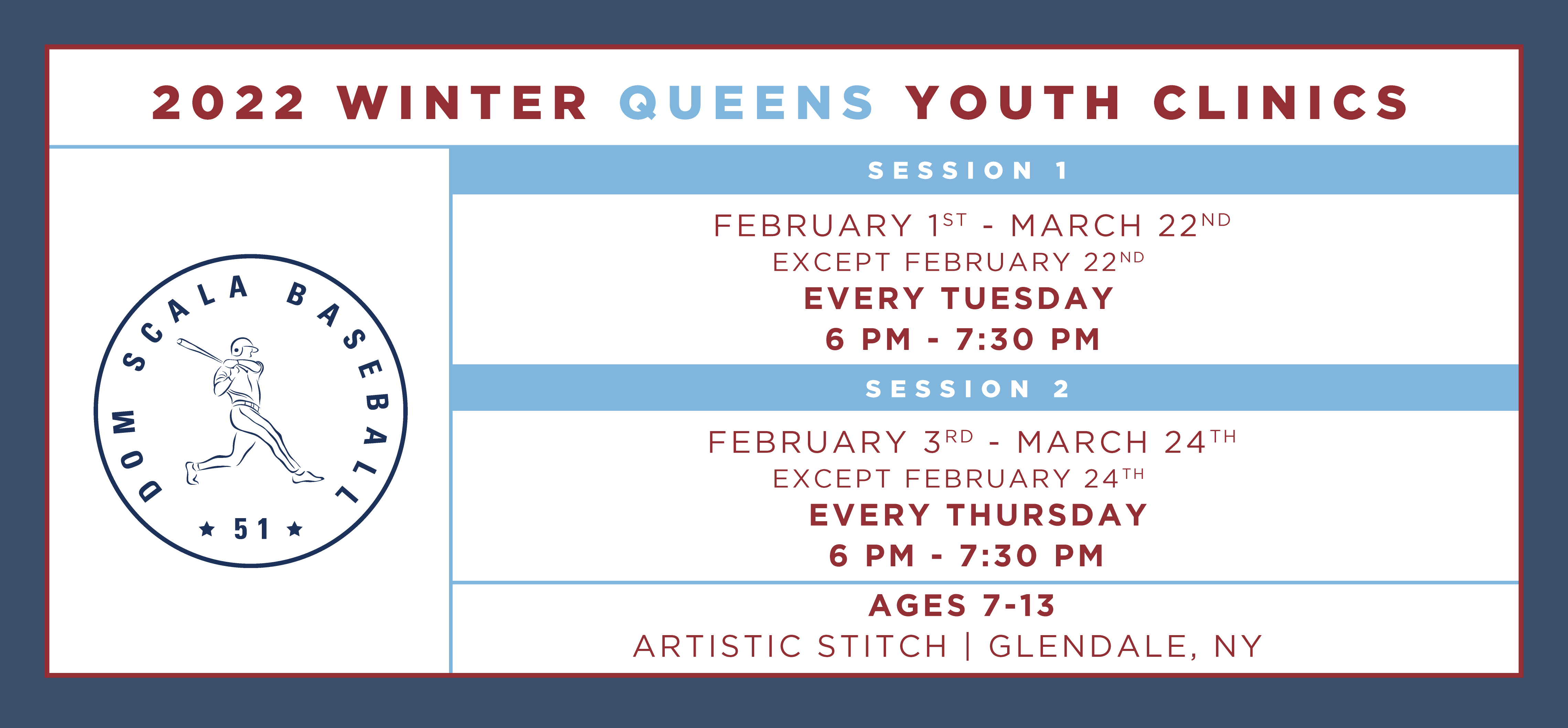 ---
CAMP LOCATION
Artistic Stitch Sports Complex
79-08 Cooper Avenue, Glendale, NY
View on Map
EQUIPMENT
Campers should bring their own glove, bat, turf shoes or sneakers, helmet, and wear baseball attire. Catchers should also bring their own catcher's gear.
COVID-19 EQUIPMENT UPDATE
Players must bring your their own equipment. Glove, Helmet, 2 Batting Gloves and Bat. Players are not permitted to share equipment. Please let your child know this in advance.
Hand sanitizer will be available but we encourage players to bring their own as well.
Players must wear 2 batting gloves at all times.
Players must bring their own water. As a safety precaution, we will not offer water refill stations this year. We will provide ESSENTIA bottled water in the afternoon if you run out.
REGISTRATION
For your convenience, registration can be completed online.
Click here to register for the Winter Camp at Artistic Stitch.
REFUND POLICY
Requests for cancellation must be sent in writing to info@domscalabaseball.com. Cash Refunds will ONLY be issued if cancellation occurs more than 14 days before the start of camp and shall be made for the amount paid, less a $95.00 administrative fee. If cancellation occurs within two weeks of camp's start date, a credit to be used towards a future camp will be issued less the administration fee.
INCLEMENT WEATHER INFORMATION
We will not use an indoor facility this year if it is raining. Please wait for an email with instructions before you come to camp.
For more information, email info@domscalabaseball.com
INDOOR COVID-19 PRECAUTIONS & SAFETY MEASURES
Mandatory Temperature Checks for Players and Coaches upon Arrival.
Workouts limited to 90 Minutes.
Windows and Doors in Facility will be OPEN.
Mandatory masks for players and coaches INDOORS.
Facility will ONLY accommodate our clinic during our time.
Players will do drills as socially distant as possible.
Hand sanitizer available with frequent breaks for hand cleaning.
You must bring your own equipment, sharing will not be permitted.
No use of machines in facility.
Parents (masked) can drop-off inside and immediately leave.
Kids will be brought outside by the coaches for pickup.
What to expect from our Winter Clinics?
During the five week Winter Clinic we will work on various fundamentals; including proper throwing, catching, pitching, and hitting.
To do this, we use various drills and baseball tools to help teach your children to understand the correct way to play the game.
We also use team & individual contests, I have found that this keeps the kids attention to detail and have fun doing it.
Most importantly we keep it simple and use repetition which is essential to achieving instincts for baseball.