Dom Scala Baseball Summer 2016 Camp
for ballplayers aged 5 to 13 years old

Monday, June 27 – Friday, July 1, 2016, 9:00am – 3:00pm at Hope Field / Juniper Park
Tuesday, July 5 – Friday, July 8, 2016, 9:00am – 3:00pm at Adelphi University
Monday, July 11 – Friday, July 15, 2016, 9:00am – 3:00pm at Adelphi University
Monday, July 18 – Friday, July 22, 2016, 9:00am – 3:00pm at Hope Field / Juniper Park
Monday, July 25 – Friday, July 29, 2016, 9:00am – 3:00pm at Hope Field / Juniper Park

CLICK HERE TO REGISTER ONLINE…
CAMP OVERVIEW:
The Dom Scala Baseball Summer 2016 Camps are designed to help you understand what you need to do to be a complete college player and get you started the right way for the upcoming season.
Our philosophy is "Perfect Practice Makes Perfect." Simply stated, if you are going to put the time in to work hard, make sure you are working the correct way or you will be wasting your time. At this camp, we will get you started for this season by working the correct way. Whether it is pitching, hitting, throwing, fielding or catching, we will help you with the necessary adjustments that will make you a more consistent player.
You will be instructed by not only Coach Scala himself, but many top notch coaches from the area (including the Adelphi Panthers Baseball staff). Guest Instructing at nearly every one of the past camps has been the legendary New York Yankee great Willie Randolph. Willie loves teaching and his approach fits well with the camp, which is "keep it simple."
At this camp, you'll also be exposed to what it takes to be a successful baseball player. This includes the dedication, hard work, good repetition, time management, and the importance of good academics in baseball. Learning this will be as valuable to you as the baseball instruction.
Another key facet of this camp is the evaluation. You will get a true and simple evaluation from one of the experienced staff. Your evaluation will let you know what you need to work on to be a valuable college prospect. This is extremely valuable in helping you towards the goal of improving your baseball skills.
Those that have attended any of the Dom Scala Baseball Camps in the past know how much Coach Scala cares about your improvement. This camp is a continuation of your progress.
Coach Dom Scala guarantees that if you work hard in this camp, you will be a better player and be well aware of what you need to do to play high school and college baseball.
The camp has a limited enrollment, and will be filled on a first-come, first-served basis.
DAILY CAMP SCHEDULE:
8:30 am – Arrive at Camp (except 1st day of camp we would like you to arrive at 8:15)
9:00 – Camp Meeting ( talk about what we worked on day before and what we will be doing today)
9:30 – Calisthenics, Stretching & Sliding
10:00 – 11:45 – Offensive, Defensive, Pitching, Running Drills
12:00 noon – 1:00pm – Lunch
1:00 – 2:45 – Games
Note: Friday's 2pm-3pm is Parents Day/ Awards Day. All family & friends invited to attend our awards ceremony.
CAMP STAFF:
Dom Scala – Head Baseball Coach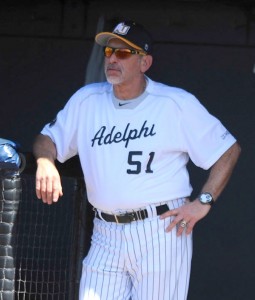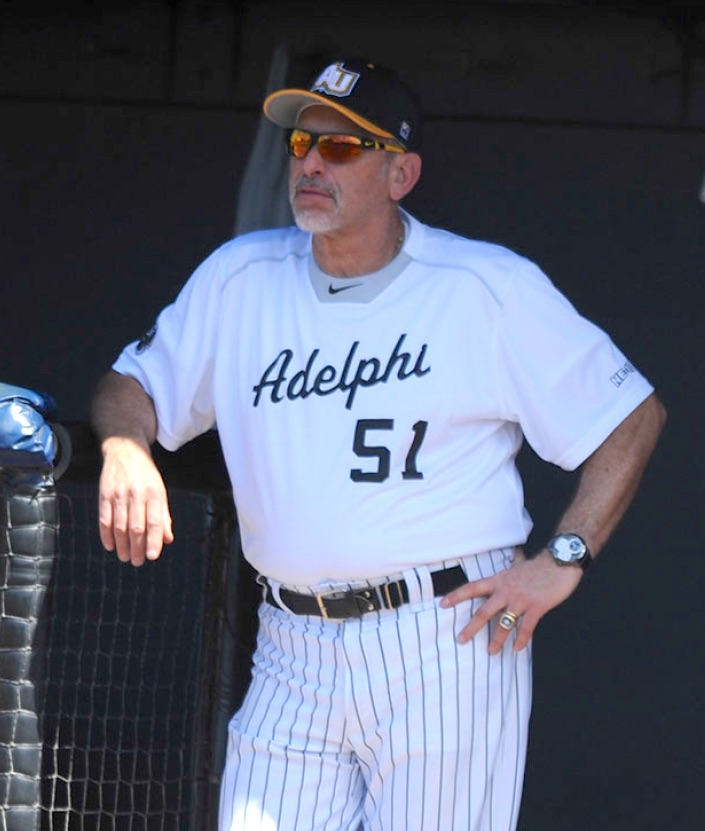 Dominic Scala, former bullpen coach of the New York Yankees, is entering his 13th year at the helm of the Adelphi University baseball team. During that time, he has coached the team to an impressive 319-245-3 record. He has been named Conference Coach of the Year four times, and led the Panthers to five NCAA appearances as well as three Conference Championships. There have been nine players drafted and 12 others signed to pro contracts in Scala's 12 years at Adelphi.
Scala came to Adelphi with an formidible professional and collegiate career. Drafted in the 6th round by the Oakland A's in 1976, he was acquired by the NY Yankees as the Bullpen Coach from 1978-1986. During his nine-year stint with the Yankees, he was a member of the 1978 World Championship and the 1981 American League Championship teams and worked with such legendary coaches as Yogi Berra, Billy Martin, Gene Michael, Jeff Torborg and the late Dick Howser.
From 1987-1990, he became the Advance Major League Scout and Special Assignment Scout of the Pittsburgh Pirates under Jim Leyland. In addition to maintaining his own baseball camps since 1990, he has served as director of many others, including NY Mets camp and the Dave Winfield camp.
A standout athlete in both football and baseball at St. Francis Prep, Scala was elected to the school's Hall of Fame in its inaugural 2013 class. He went on to play third base at St. John's University from 1972-76. A collegiate third team All-American and two-time ECAC All-Star, his name still appears in the top ten collegiate career record books in nine of 13 offensive categories. A team captain, he batted .420 his senior year, good for 15th in the nation, and was named the team MVP.
Bill Ianniciello – Assistant Coach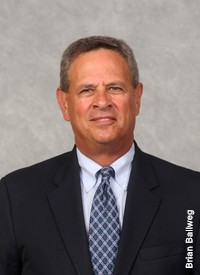 Bill Ianniciello is in his fourth year as Assistant Coach and Recruiting Coordinator for the Panthers. He also serves as third base coach and hitting instructor for the Panthers.
In summer ball, Ianniciello manages in the Hamptons Collegiate Baseball League, where his North Fork Ospreys team has made the playoffs each of his three seasons and captured the HCBL Championship in 2013.
Prior to joining Adelphi, Bill was an Assistant Coach with Queens College for the 2011 and 2012 seasons.
Bill worked 31 years in the New York Mets organization, from 1980-2010, the final 17 as Vice President of Ticket Sales and Services. He coordinated ticketing for the 1986 and 2000 World Series, and major rock concerts. Locally in Dix Hills, Ianniciello served as a Board member for Half Hollow Hills Little League — one of the largest and most progressive in the world — from 2001-2013, and as League Vice President his last year.
Bill earned a B.A. in Economics at Stony Brook University in 1978 and his M.S. in Sport Management from the University of Massachusetts in 1981. He played baseball four years at Stony Brook, was team captain his senior year, and managed the Junior Varsity team at UMass to a 13-6 record in 1979.
Kevin Salmon – Pitching Coach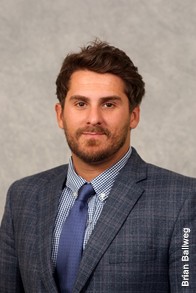 Kevin Salmon begins his first season on Dom Scala's staff at Adelphi as the Panthers pitching coach.
Salmon comes to Adelphi after a three year stint as an Assistant Coach at Farmingdale State College. He also spent one year as an assistant at Briarcliffe College.
This past summer he led the Montauk Mustangs to its first post season birth in the Hamptons Collegiate League. In the summer of 2014, Salmon served as the Pitching Coach of the Albany Dutchmen of the Perfect Game Collegiate League, helping them make the playoffs. In the summer of 2013, Salmon served as the Head Coach of the Long Island Macos of the North Atlantic Collegiate Baseball League.
Salmon played his collegiate ball at Coastal Carolina University, pitching two seasons for the Chanticleers from 2004-2006. In his two years , he compiled a 5-4 record over 98 innings both as a starter and reliever. He earned the win against UNLV in the 2006 Tempe Regional. Prior to transferring to CCU, Salmon played two years at Briarcliffe Community College, which ranked number six in the country his sophomore year in Division 1 JUCO. He was among the nations top hurlers as he ranked in the top five in strikeouts per nine innings, ERA, and innings pitched. He also threw two no-hitters. He was selected to the Junior College All Star Team to represent the USA in a nine game series in China against the CBA.
Following his collegiate career, Salmon was signed as a free agent by the Philadelphia Phillies and spent two plus years in their minor league system. He also played one year in independent ball with the Washington WildThings of the Frontier League.
Salmon has worked as a pitching instructor at Matt Guliano's Play Like A Pro since 2010. Before that, he served as a pitching instructor and infield instructor at Sal Agostenelli's Long Island Baseball Academy.
---

CAMP LOCATION:
Hope Field / Juniper Park for those weeks indicated above. Adelphi University (Bonomo Field / Ficke Field) for those weeks indicated above.
EQUIPMENT:
Campers should bring their own glove, bat, turf shoes or sneakers, helmet, and wear baseball attire. Catchers should also bring their own catcher's gear.
REGISTRATION:
For your convenience, registration can be completed online here.
REFUND POLICY:
Refunds will only be given for written cancellations requests received by June 1, 2016. Requests for cancellation must be sent in writing to info@domscalabaseball.com. Refunds shall be made for the amount paid for the camp, less a $75. administrative fee. There are no refunds for cancellations requests received after June 1, 2016.
INCLEMENT WEATHER INFORMATION:
All registrants (and their parents) will receive an email if any weather issues might affect the event. Participants should assume that the event will go on as scheduled.
For more information, email dom@domscalabaseball.com